The Co-operative Republic of Guyana, formerly known as British Guiana, is located on the north-eastern corner of the South American continent; bordered by the Atlantic Ocean to the north, Suriname to the east, Venezuela to the west and Brazil to the south.
Historically, Guyana's colonial era encompasses the many struggles (revolutions) to end or abolish slavery. Slavery continued in Guyana although the British Empire abolished The Save Trade in 1807.
The effects of these revolutions and emancipation efforts threatened the economic and political stability of the plantation owners. As a consequence of the heightened consciousness of the slaves, the plantations lost there profitability and this lead to the birth of a new Afro-working class in British Guiana.
The British becoming apprehensive about the diminishing labour force on the plantations, opted to bring indentured labourers from Madeira in 1835, India in 1838 and China in 1853 to Guyana to keep the wheels of production turning. These indentured labourers were promised work for a number of years and were allowed to save their earnings and return to their country of origin. This marked a new era for migration in Guyana, since the indentureship period would shape the demography of Guyana and define its rich diverse cultural heritage.
On May 26, 1966, Guyana became an Independent sovereign nation, changing its name from British Guiana to Guyana. Guyana- The Land of Many Water, is generally known for its ethnic diversity and is comprised of six (6) races. They are as follows :-
Amerindians
Africans
Indians
Chinese
Europeans
Mixed
NATIONAL PROFILE AND SYMBOLS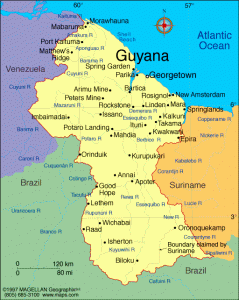 Official Name – The Cooperative Republic of Guyana
Capital – Georgetown
Official Language – English
Citizens – Guyanese
Religion – Christianity, Islam, Hinduism
Size – 214,970 km2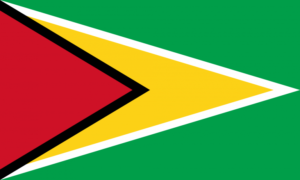 National Flag – The Golden Arrow Head
Green- represents the vast forests and agricultural land.
White- symbolized our water resources
Yellow- symbolizes the country's mineral wealth
Black- represents the zeal and resilience of our people.
Red- symbolizes the sacrifices of the people to realize the nation's dreams
The Coat of Arms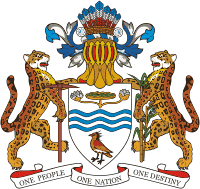 Motto- One People, One Nation, One Destiny
The Coat of Arms is made up of an Amerindian Head dress representing the first people of Guyana, the Amerindians; two diamonds, one resting on each side of the head dress signifying the mineral wealth and mining industry of Guyana. The helmet below the head dress is a monarchial insignia indicating historic colonial ties. Two jaguars holding a pick axe, sugar cane and a stalk of rice representing Guyana's sugar and rice industries. A shield decorated with the Victoria Regia Lily, Guyana's national Flower at the top; in the center, three blue wavy lines depicting the three main rivers of Guyana, and lastly; the National Bird , the Canje Pheasant.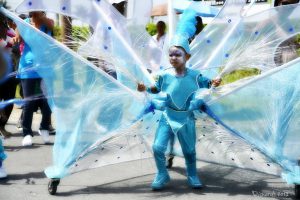 Guyanese culture is as rich and diverse as its population. It reflects Indian, African, Amerindian, British, Portuguese, Chinese and Dutch cultures. This ethnic diversity is expressed in many different aspects that make up the vibrant kaleidoscope of Guyanese culture, such as language, religion and cuisine.
Guyana is the only South American country in which English is the official language. Guyanese creole is also widely spoken in Guyana, while a minority speaks a number of Amerindian languages.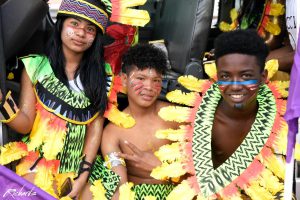 A little over 60% of the population is Christian, 25% are Hindu and just under 10% are Muslim. The customs and festivals surrounding these religions are often observed across religious boundaries and are also national holidays in Guyana, such as Phagwah, Easter, and Eid al-Adha. Generally, festivals play an important role in Guyanese culture. The most important national festival is Mashramani, which is an Amerindian word meaning "celebration after hard work" and is celebrated by a parade of colourful carnival costumes, each representative of the colourful diversity of Guyana. This festival is celebrated each year on February 23rd in order to commemorate the attainment of Republican status by Guyana on February 23rd, 1970.
Another aspect of Guyanese culture reflecting its rich diversity is Guyanese cuisine. Popular dishes include dishes originating from India, Africa, China and Europe. The national dish is a spicy Native Amerindian stew called "pepperpot", which is made of mixed meats. Rice is a staple food in the Guyanese kitchen and it is often eaten with fish, meat or vegetables which are cooked in curries or stews.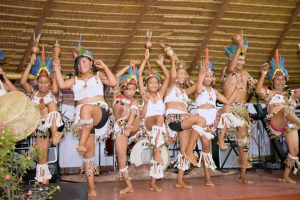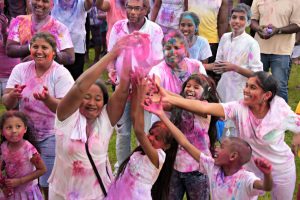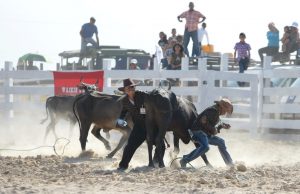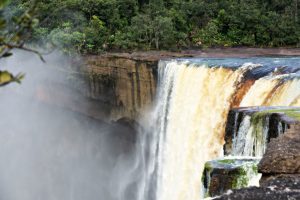 Welcome to beautiful Guyana, a tropical paradise located in South America bordering Brazil to the South, Venezuela to the west and Suriname to the East. Come experience a fusion of our diverse culture through religious and cultural festivals and culinary delights. The diversity of our peoples are celebrated year round with festivals such as Phagwah, Diwali, Eid-Al-Adha, Yoman Nabi, Easter, Rupununi Rodeo, Bartica Regatta, Mashramani, Amerindian Heritage Month, Arrival Day, Independence and Republic Days and Christmas.
Looking for adventure and nature you have come to the right place. Explore our untouched Amazonia forest, interior savannahs and indigenous communities located in Guyana's hinterland. Indulge in indigenous music, dance, art, food and way of life by staying at one of our indigenous resorts located in Guyana's hinterland.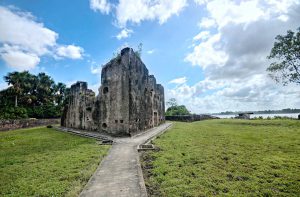 If you are looking for adventure you can choose from activities such as hiking, safaris, fishing, mountain climbing and jungle survival experience in Guyana's rainforest. Interested in sightseeing, you have the option of touring the capital city of Georgetown and viewing historical and unique architecture building such as the St. Georges Cathedral, the Stabroek Market and the City Hall to name a few. For those adventure lovers there are day trips to visit the Majestic Kaieteur Waterfalls (longest single drop waterfalls in the world), historical forts depicting our rich colonial past in Guyana's hinterland and the hot and cold lake located in the Essequibo Region and the blue lakes in the mining town of Linden. During the period March-August visitors can opt to visit the Shell Beach to view the vulnerable and endangered Leatherback, Green, Hawksbill and Olive Ridley turtles during their nesting period.
For those travelling for business purpose and need to relax after a hectic day there are a wide variety of nigh life activities to choose from around the city of Georgetown.
For more information:
https://www.guyanatourism.com/
http://exploreguyana.org/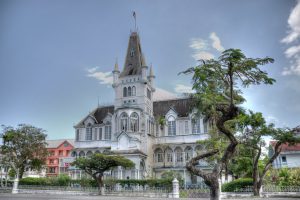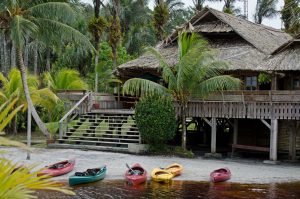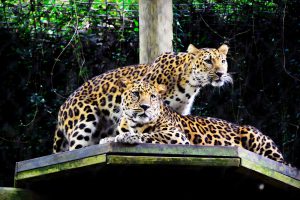 CONDUCTING BUSINESS IN THE CO-OPERATIVE REPUBLIC OF GUYANA – INVESTMENT AND TRADE
It is no secret that as a rapidly developing country, Investment and Trade opportunities abound in the Co-operative Republic of Guyana. Numerous opportunities exist in the Mining, Agriculture and Telecommunication sectors. Further, in light of the unprecedented discoveries of crude oil and natural gas, the business opportunities are many.
TRADE AND MARKET ACCESS
Guyana is blessed with an abundance of arable lands and fresh water and with its proximity to the CARICOM and North American markets, provides exporters with fresh produce. Additionally many products receive duty free or reduced duty access to regional markets.
The United States of America and Canada continue to be Guyana's primary export markets. However through the virtue of being party to several regional (CARICOM) and bilateral agreements, Guyana has preferential access to some of the world's largest markets such Brazil, Colombia, Costa Rica, Cuba, the Dominican Republic and the European Union.
Traditional exports:- Guyana's traditional export includes rice, sugar, timber, bauxite and gold. However, overtime much attention has been placed on non-traditional exports such as value added wood products, sea food, light manufacturing and non-traditional agricultural products.
Major opportunities in the agricultural export sector currently exist for:- fresh fruits, fresh vegetables, plantain, roots and tubers, herbs and spices, livestock and dairy products, processed foods etc.
There is also exportation on a somewhat smaller scale of garments and textiles and handicrafts (wooden, ceramic and woven).
TELECOMMUNICATION
There is a small but budding Information Technology (IT) enabled services industry in Guyana. Several investors have included Guyana as part of a network for Business Process Outsourcing (BPO) for centers located in Latin America. They are currently six (6) BPO Companies in Guyana that are engaged in telemarketing, outbound sales etc.
This sector currently employs approximately 4000 persons. The opportunities for expansion in this particular field are numerous.
EXPLOITATION OF NATURAL RESOURCES
There have been thirteen (13) oil discoveries in Guyana thus far. It is estimated that the total in recoverable crude is equivalent to 5 billion barrels. It is anticipated that by 2025 Guyana would be producing at least 750,000 barrels of oil per day.
The Government is projected to earn approximately US$500 Million (G$100 billion) annually in oil revenue once the price for oil remains constant (US$50-US$55) on the international market.
The impending oil and gas sector presents a "massive transformational opportunity" for Guyana. Undoubtedly, Guyana will need major infrastructure investment to support offshore activities especially in the area of processing facilities for natural gas, a deep-water port along with the construction of power plants. Technical training programs will also have to be put in place to provide locals with the requisite skills needed to develop and maintain new oil and gas facilities.
The mining sector in Guyana is primarily focused on gold, bauxite and diamonds. However they are also deposits of semi-precious stones such as manganese, laterite, kaolin, nickel among others. The extractive sector represents a critical component of Guyana's economy. This sector contributed over 12 percent to Guyana's GDP over the past three (3) years.
MANUFACTURING
The manufacturing industry in Guyana contributes approximately 4 percent to the country's Gross Domestic Product (GDP) and readily employs 12 percent of its population. The Government and the Private Sector are eager to expand on the value added to various products. These include but are not limited to the following:- Garments and apparel manufacturing, manufactured forest products (furniture, flooring, plywood, packaging) and construction materials (stone, cement, clay bricks, tiles).
Persons desirous of establishing a business in Guyana must comply with the administrative procedures established under the relevant business acts.
The Business Names (Registration) Act, the Partnership Act and the Companies Act (9/91) govern the registration of businesses that are incorporated.
The Deeds Registry in Georgetown is the sole entity that is mandated with the registration of all businesses in Guyana.
Investors have several options available to them in relation to the category under which they prefer their business/s to be established and operated:-
Single Ownership
Partnership
Company
Taxation- Guyana provides an array of investment incentives for investors. These include a flat business tax rate, tax holidays, waiver of customs duties, value added tax and excise tax along with the unrestricted repatriation of profits.
However it is mandatory for all Businesses operating in the Co-operative Republic of Guyana to be in full compliance with the payment of all taxes. They are two categories of taxation:-
Direct Taxes- includes income tax and corporation tax and
Indirect Taxes-property tax, capital gains and value added tax (VAT).
For more information on doing business in Guyana, please contact the Guyana Office for Investment (Go-Invest) and the Guyana Revenue Authority at the following websites:-